Let There Be Light (2017) on Netflix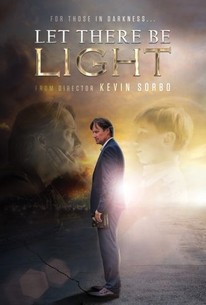 Movie Info
For all his far-reaching fame, Sol Harkins, the world's most famous atheist, is a lonely soul and a lousy part-time dad. After a near death experience challenges his simplest assumptions about this world, Sol finds his purpose and reimagines his life, in a film that will make you laugh and cry and want to stand up and cheer.
Is Let There Be Light (2017) on Netflix?
Oh Snap!
This Movie is not available yet on Netflix for any Country!
**Note: Bookmark this page to Know when this Movie becomes available on Netflix
Cast
Kevin Sorbo

as Dr. Sol Harkins
Donielle Artese

as Tracee
Critic Reviews for Let There Be Light
All Critics (4) | Top Critics (3) | Fresh (2) | Rotten (2)
While Christian audiences will no doubt embrace this heavily proselytizing drama, secular viewers are likely to feel like they've been accosted by a street corner preacher.
October 27, 2017 | Full Review…
Frank Scheck
Hollywood Reporter
Top Critic
… predictably simplistic and maudlin in content.
October 26, 2017 | Full Review…
Dennis Harvey
Variety
Top Critic
For its intended audience, "Let There Be Light" should prove an involving bonanza of conservative, Christian-centric ideals, mores and speechifying.
October 26, 2017 | Full Review…
Gary Goldstein
Los Angeles Times
Top Critic
Sam Sorbo delivers the year's best Kleenex-clutching moment in this warm redemption tale.
October 30, 2017 | Rating: 3/4 | Full Review…

Christian Toto
HollywoodInToto.com
View All Critic Reviews (4)
**Note: Bookmark this page to Know when this subtitle becomes available on 080movie subtitles.
Reviews are culled from: Rotten Tomatoes.